At A La Carte Rentals, we treat each event as a unique one, ensuring that your wedding will be a day that you will remember forever. As we add wedding accents that will stand out among your guest, we know that what we provide helps forge your future memories, creating that unforgettable day. Please contact us for a wedding consultation — we would love to provide your Tuscon wedding rentals and accents!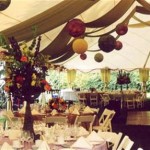 Tent with Fabric Colored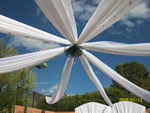 Special Decoration Swang Fabric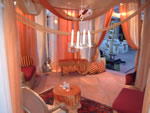 Gazebo with Fabric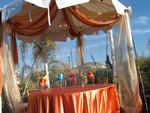 Octagonal Tent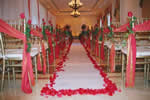 Isle Runner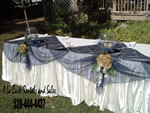 Head Table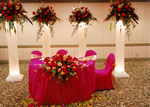 Columns with Lights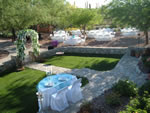 Sweet Heart Table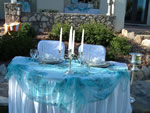 Sweet Heart Package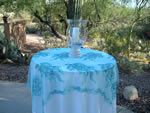 Aqua Tall Cocktail Table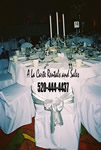 Chair Cover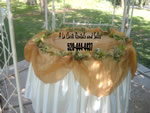 Cake Table
Would you like a free quote? A La Carte Rentals is a click away! Plan your Tucson AZ event rentals today!
| | | |
| --- | --- | --- |
| ITEM # FOR WEBSITE PICS | ITEM | Price |
| W1 | Antique Accent Table 4′ x 16″ | $ 35.00 |
| W2 | Bead Curtain (3′ L x 12′ H) – Silver | $ 60.00 |
| W3 | Cake Base Round Nickel 18″ or 20″ | $ 35.00 |
| W4 | Cake Base Square Nickel 22″ | $ 35.00 |
| W5 | Cake Base Wood Personalized w/Engraved Letters | $ 95.00 |
| W6 | Cake Knife & Spatula | $ 8.00 |
| W7 | Cake Plate Pedestal | $ 4.00 |
| W8 | Cake Plate Pedestal w/Lid (Glass) | $ 12.00 |
| W9 | Cake Table – 36″ Round at 42″ High w/Linen(s) | $ 35.00 |
| W10 | Cake Table – 48″ Round at 30″ High w/Linen(s) | $ 35.00 |
| W11 | Cake Table – Glass Top w/Lights | $ 200.00 |
| W12 | Candelabra Floor Size Gold | $ 65.00 |
| W13 | Candelabra Floor Size Ornamental Iron | $ 25.00 |
| W14 | Candle Battery Operated | $ 0.75 |
| W15 | Carpet Runner Ivory 20′ L x 4.5 W | $ 85.00 |
| W16 | Carpet Runner Ivory 36′ L x 4′ W (Indoor Use Only) | $ 100.00 |
| W17 | Carpet Runner Red 25′ L x 4′ W | $ 85.00 |
| W18 | Chalk Board Table Marker | $ 6.00 |
| W19 | Champagne Fountain 3 Gal | $ 70.00 |
| W20 | Champagne Fountain 5 Gal | $ 80.00 |
| W21 | Champagne Pontrelli Fountain 7 Gal | $ 90.00 |
| W22 | Column 2.5′ High | $ 30.00 |
| W23 | Column 5′ High | $ 40.00 |
| W24 | Column 6′ High | $ 50.00 |
| W25 | Column 8′ High | $ 75.00 |
| W26 | Cupcake Serving Tower Plastic | $ 8.00 |
| W27 | Cupcake Serving Tower Silver | $ 30.00 |
| W28 | Easel Ornamental Iron | $ 25.00 |
| W29 | Floral Ball White 6″ | $ 2.75 |
| W30 | Floral Ball White 8″ | $ 3.75 |
| W31 | Floral Ball White 10″ | $ 4.75 |
| W32 | Galvanized Metal Bucket 3″ | $ 2.00 |
| W33 | Galvanized Metal Bucket 5″ | $ 4.00 |
| W34 | Galvanized Metal Tray 8″ | $ 4.00 |
| W35 | Guest Book Stand | $ 20.00 |
| W36 | Kneeling Bench | $ 25.00 |
| W37 | LED Battery Operated Fairy String Light | $ 5.00 |
| W38 | Moss Runner 45″ L x 9″ W | $ 12.00 |
| W39 | Mr. & Mrs. Sign | $ 45.00 |
| W40 | Mr. & Mrs. Sign Hung with Frame | $ 90.00 |
| W41 | Palm Tree 7′ High (Silk) | $ 60.00 |
| W42 | Paper Flower 10″ | $ 5.00 |
| W43 | Paper Flower 12″ | $ 7.50 |
| W44 | Paper Flower 16″ | $ 10.00 |
| W45 | Paper Lantern w/LED Light 10″ x 24″ | $ 6.00 |
| W46 | Phew Wrought Iron Stand | $ 12.00 |
| W47 | Pipe & Drape 3′ or 8′ High p/LFT | $ 4.00 |
| W48 | Pipe & Drape 16′ High p/LFT | $ 14.00 |
| W49 | Shepherd's Stand LG | $ 10.00 |
| W50 | Shepherd's Stand SM | $ 5.00 |
| W51 | Stanchion Post | $ 15.00 |
| W52 | Stanchion Velvet Rope 9′ or 6.5′ – Red or Black | $ 8.00 |
| W53 | Sweetheart Table Antique | $ 60.00 |
| W54 | Sweetheart Table Half Moon w/Linen(s) | $ 45.00 |
| W55 | Tree – White w/Crystals & Lights (Set of 2) | $ 175.00 |
| W56 | Umbrella 9′ – White w/Stand | $ 30.00 |
| W57 | Wedding Arch Column – Off White | $ 140.00 |
| W58 | Wedding Arch Lattice – White | $ 85.00 |
| W59 | Wedding Arch Ornamental Iron – Brown or White | $ 85.00 |
| W60 | Wedding Trash Can – White w/Out Liner | $ 5.00 |
| W61 | Wine Bucket | $ 10.00 |
| W62 | Wine Bucket Stand | $ 5.00 |
| W63 | Wood Sign Personalized | $ 20.00 |