We can provide you with natural flowers centerpieces, if you have something special in mind with selective flowers, just ask us and we can provide you with a quote. When you choose a centerpiece make sure to keep in mind the shape of the tables, number of guest, the height of the ceiling and the size of the arrangement. We always keep in mind your guest experience as well as yours.
Centerpiece Glass Base 3 Sizes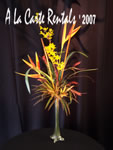 Tall glass 18″ or 24″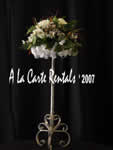 Wrought Iron Tall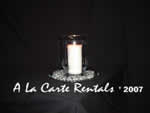 Hurricane with Candle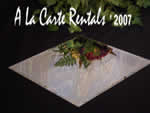 12″ x 12″ Mirror for Centerpiece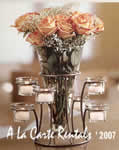 Wrought Iron Glass
Would you like a free quote? A La Carte Rentals is a click away! Plan your Tuscon AZ event rentals today!
| | | |
| --- | --- | --- |
| ITEM # WEBSITE PICS | ITEM | Price |
| CNTR1 | Candelabra Table Size Gold w/Crystals | $ 20.00 |
| CNTR2 | Candelabras Table Size Gold w/Out Crystals | $ 18.00 |
| CNTR3 | Candle Battery Operated | $ 0.75 |
| CNTR4 | Candle Holder Short | $ 2.00 |
| CNTR5 | Candle Holder Tall | $ 3.00 |
| CNTR6 | Candle Runner 9″ W x 48″ L | $ 7.00 |
| CNTR7 | Crystal Candle Holder 10″ Gold | $ 8.00 |
| CNTR8 | Crystal Candle Holder 15″ Gold | $ 10.00 |
| CNTR9 | Crystal Vase – Silver | $ 8.00 |
| CNTR10 | Crystal Vase Set of 3 | $ 20.00 |
| CNTR11 | Cylinder Vase 10″ High | $ 4.00 |
| CNTR12 | Cylinder Vase 12″ High | $ 4.00 |
| CNTR13 | Cylinder Vase 14″ High | $ 6.00 |
| CNTR14 | Cylinder Vase 16″ H x 5″ Diameter | $ 8.00 |
| CNTR15 | Cylinder Vase 20″ H x 6″ Diameter | $ 10.00 |
| CNTR16 | Cylinder Vase 24″ H x 5.5″ Diameter | $ 12.00 |
| CNTR17 | Decorative Bottle | $ 1.00 |
| CNTR18 | Flute Vase 16″ | $ 6.00 |
| CNTR19 | Flute Vase 24″ | $ 7.00 |
| CNTR20 | Galvanized Metal Bucket 3″ | $ 2.00 |
| CNTR21 | Galvanized Metal Bucket 5″ | $ 4.00 |
| CNTR22 | Galvanized Metal Tray 8″ | $ 4.00 |
| CNTR23 | Hurricane Vase | $ 6.00 |
| CNTR24 | Juice Yard | $ 2.00 |
| CNTR25 | Lantern w/Candle Light | $ 7.00 |
| CNTR26 | LED Battery Operated Fairy String Light | $ 5.00 |
| CNTR27 | Mason Jar LG | $ 2.00 |
| CNTR28 | Metal Bucket | $ 2.00 |
| CNTR29 | Metal Geometric Flower or Candle Vase 4″ | $ 4.00 |
| CNTR30 | Metal Geometric Flower or Candle Vase 6″ | $ 6.00 |
| CNTR31 | Milk Jar | $ 1.25 |
| CNTR32 | Moss Runner 45″ x 9″ | $ 10.00 |
| CNTR33 | Natural Birch Sticks p/Table | $ 10.00 |
| CNTR34 | One Gold w/Ostrich Feathers | $ 46.00 |
| CNTR35 | Paper Flower 10″ | $ 5.00 |
| CNTR36 | Paper Flower 12″ | $ 7.50 |
| CNTR37 | Paper Flower 16″ | $ 10.00 |
| CNTR38 | Short Glass (Set of 3) | $ 10.00 |
| CNTR39 | SM Gold Vase or 8″ or 11″ x 1″ | $ 5.00 |
| CNTR40 | Square Mirror 12″ | $ 5.00 |
| CNTR41 | Square Vase 20″ H x 5″ Diameter | $ 10.00 |
| CNTR42 | Votive w/Candle | $ 2.00 |
| CNTR43 | Votive w/Out Candle | $ 1.00 |
| CNTR44 | Wood Slab 10″ Round | $ 5.00 |
| CNTR45 | Wrought Iron Stand w/Glass Vase w/6 Candle Holders | $ 10.00 |
| CNTR46 | Wrought Iron Tree w/Crystals & LED Lights | $ 45.00 |
| CNTR47 | Wrought Iron Tree w/Out Crystals | $ 20.00 |