Chair rentals Tucson-You may need one chair rental in Tucson or you may be asking yourself: Where do I rent chairs for my wedding? In Tucson AZ or in the state of Arizona, rentals for your wedding, party or event have never been so easy with so many styles to choose from, good quality, outstanding customer service and great pricing. We carry: Folding chairs, children chairs, white and black resin chair,chiavari elegant chairs, bar stools and all the tables to go with them.
Getting the right chair!
When choosing a chair rental style, you might want to consider the following;
FLOORING: what type of surface are you having for your event? If it is grass, you may not want to rent the chiavari chair, although is the must elegant rental chair, it would sink into the grass. You have to also consider the weather, if the ground is too moist from a week of rain it will affect the condition of the grass. We recommend to rent resin chairs (white or Black) for garden grass surface events. Here is a HOT TIP for you, do not forget to shut off the irrigation system, we have cater to weddings to where the sprinklers went off in the middle of the ceremony.
CHAIR COVERS: You might consider renting chair covers for your event, it is very important to know what type of chair your venue has before you go renting chair covers, they are like dresses and they do not fit every chair, please talk to us and we will help you with the chair rental process.
WEIGHT: Another thing to keep in mind, rental chairs have a weight capacity, so is you are seating the whole football team, you might ask about a higher weight capacity rental chair, Talk to one of our rental party specialist about your special rental needs and make sure to mention what flooring the venue has and if you have any special guest needs for your event, we will be glad to help you.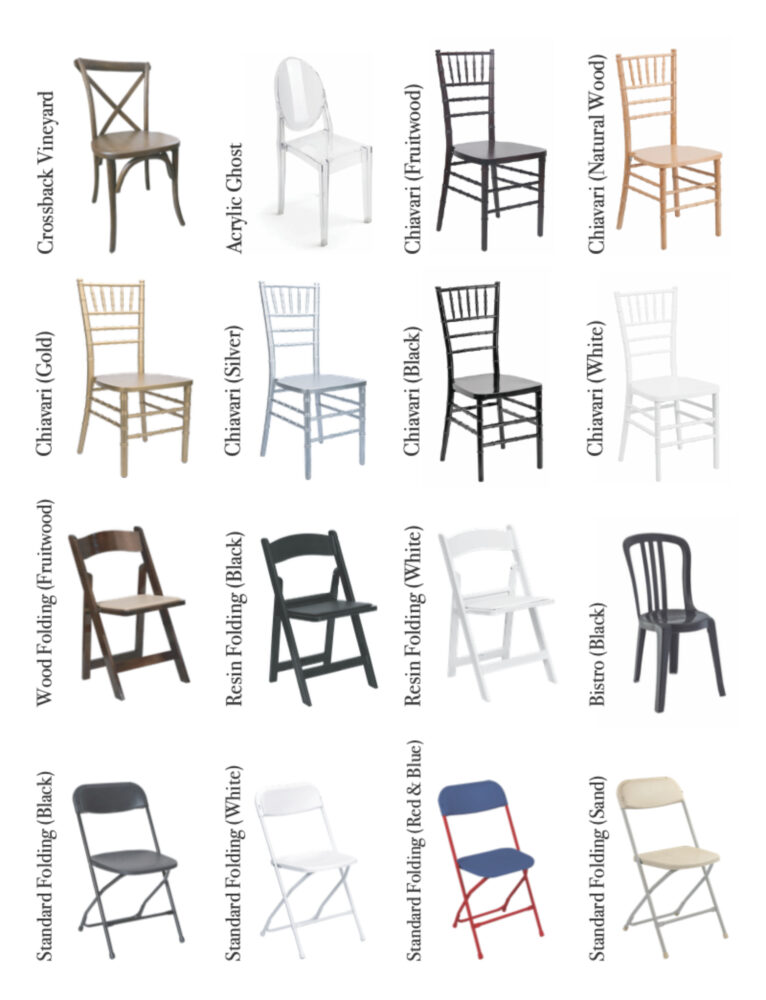 Would you like a free quote? A La Carte Party Rentals Tucson is a click away! Plan your Tuscon AZ event rentals today!
| | | |
| --- | --- | --- |
| ITEM # | ITEM | Price |
| CHR1 | Standard Folding Chair Sand | $ 2.15 |
| CHR2 | Standard Folding Chair White | $ 2.15 |
| CHR3 | Standard Folding Chair Black | $ 2.15 |
| CHR4 | Standard Folding Chair Red & Blue | $ 2.15 |
| CHR5 | Heavy Duty Folding Chair (450 LB. Weight Limit) | $ 2.75 |
| CHR6 | Bistro Chair Black | $ 2.75 |
| CHR7 | Resin Folding Chair w/Padded Seat White | $ 4.15 |
| CHR8 | Resin Folding Chair w/Padded Seat Black | $ 4.15 |
| CHR9 | Wood Folding Chair w/Padded Seat Fruit Wood | $ 4.50 |
| SERVICE | Set-Up & Breakdown Per Folding Chair or Bistro Chair | $ 1.15 |
| CHR10 | Chiavari Chair w/Cushion – Natural Wood, Fruitwood, Gold, Silver, Black or White | $ 10.00 |
| CHR11 | Chiavari Chair Cushion Only – Black, White or Ivory | $ 3.50 |
| CHR12 | Crossback Vineyard Chair with Cushion | $ 13.50 |
| NEW | Ghost Chair | $ 13.50 |
| SERVICE | Set-Up & Breakdown Per Chiavari Chair w/Cushion or Crossback Vineyard Chair with Cushion | $ 2.50 |
| CHR13 | Bar Stool Chrome w/Black Cushion | $ 14.00 |
| CHR14 | Wooden Bench | $ 26.50 |
| CHR15 | Wooden Chair | $ 45.00 |
| CHR16 | Bride & Groom Chairs Upholstered (Set of 2) | $ 132.00 |
| NEW | Bride & Groom Chairs French Back (Set of 2) | $ 132.00 |
| NEW | Throne Chair | $ 220.00 |
| CHR17 | Baby Shower Chair White | $ 55.00 |
| CHR18 | Wood Highchair | $ 14.00 |
| CHR19 | Toddler Folding Chair Multicolor w/Characters | $ 1.65 |
| CHR20 | Children's Folding Chair Multicolor | $ 1.95 |
| NEW | Children's Resin Folding Chair w/Padded Seat White | $ 3.00 |