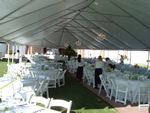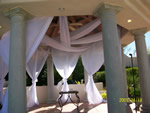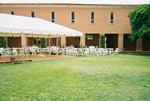 Click here to view tent sizing
A La Carte Rentals Searching for: Tent rental Tucson or Tent rental Arizona has brought you to our site, we carry over 200 tents and canopies and they resist wind load up to 50 MPH, with proper setup including staking and tie-downs. Our versatile system can be set up according to your needs with minimal parts and configurations, with heavy duty poles and fitting system assures the safety of your guest, the tent tops can be expandable in length. For example a 20' x 20' can be made in two pieces to make a 20' x 20', 20' x 40' and so on. Our leg sizes can be adjusted to accommodate your needs and base plates are available to protect your surfaces. A multiple variation of sidewall styles are available; standard solid, cathedral windows, clear panels and mesh.
Certifications:
Our tents have been treated with flame retardant and are registered with the California state fire marshal, certificates are available upon request.
Electric Power:
If electricity is required client is responsible to deliver power to the tent, if A La Carte Rentals needs to bring the power to the tent an additional charge will apply for the rental of any additional cabling and installation.
Anchoring:
Our standard anchoring is done with stakes to the ground. Water barrels are available for rent for an extra charge client needs to provide a faucet with in 200 feet of the tent to be able to supply water for the barrels. Please inquire on the barrels rental cost.
Permits:
A permit may be required by the city or fire department of the location where you need your tent and different cities have different standards for example if you need your tent in Tucson you may not need a permit if the size is 20' x 40' or smaller. That may change depending on the specific location. A La Carte Rentals is NOT responsible for obtaining your tent permit, you may call your city hall and find out what are the specific requirements for your event. We have provide you the following contact information to assist you in obtaining your permit keep on mind that the permits require between 7 to 15 days depending of the city, please allow enough time for you to obtain your permit. A La Carte Rentals will process your permit for an additional fee, please call to inquire.
Insurance Certificate:
In order to maintain a low and competitive pricing, we have elected to go with an insurance carrier that charges us for each Insurance Certificate that they issue us. If you want or need an insurance certificate that includes your name a $100.00 (One hundred dollars) additional fee is required per event. Please rest assured that we maintain our insurance current and that your event is always covered. A Commercial General Liability Insurance policy is place.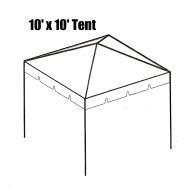 10 x 10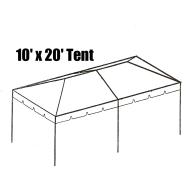 10 x 20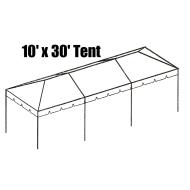 10 x 30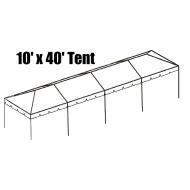 10 x 40
10 x 50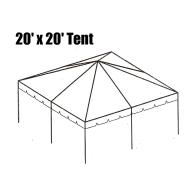 20 x 20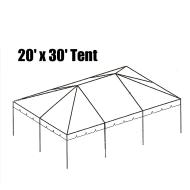 20 x 30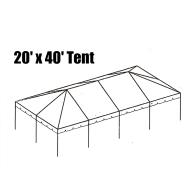 20 x 40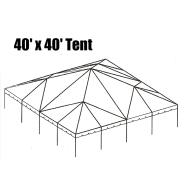 40 x 40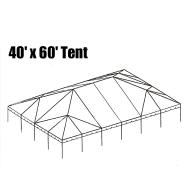 40 x 60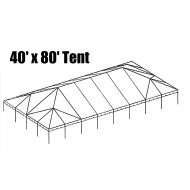 40 x 80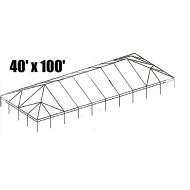 40 x 100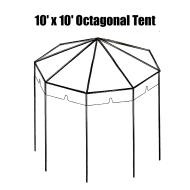 Octagon 10 x 10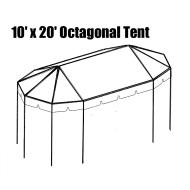 Octagon 10 x 20
Would you like a free quote? A La Carte Rentals is a click away! Plan your Tucson AZ event rentals today! 
ITEM # FOR WEBSITE PICS
ITEM
Price
CT1
10′ X 10′ Pop-Up – Installed
 $          65.00
CT2
10′ X 10′ Pop-Up – Uninstalled
 $          50.00
CT3
10′ X 10′
 $        120.00
CT4
10′ X 10′ Peak
 $        140.00
CT6
10′ X 15′
 $        165.00
CT7
10′ X 20′
 $        200.00
CT8
10′ X 30′
 $        300.00
CT9
15′ X 15′
 $        225.00
CT10
15′ X 20′
 $        300.00
CT11
15′ X 30′
 $        450.00
CT12
20′ X 20′
 $        275.00
CT13
20′ X 20′ Peak
 $        295.00
CT14
20′ X 25′
 $        375.00
CT15
20′ X 30′
 $        600.00
CT16
20′ X 30′ Peak
 $        660.00
CT17
20′ X 40′
 $        800.00
CT18
20′ X 40′ Peak
 $        880.00
CT19
20′ X 50′
 $     1,000.00
CT20
20′ X 60′
 $     1,200.00
CT21
20′ X 60′ Peak
 $     1,320.00
CT22
20′ X 80′
 $     1,600.00
CT23
20′ X 80′ Peak
 $     1,760.00
CT24
30′ X 30′
 $        900.00
CT25
30′ X 40′
 $     1,200.00
CT26
30′ X 50′
 $     1,500.00
CT27
30′ X 60′
 $     1,800.00
CT28
40′ X 40′
 $     1,600.00
CT29
40′ X 40′ Clear Top
 $     1,800.00
CT30
40′ X 50′
 $     2,000.00
CT31
40′ X 50′ Clear Top
 $     2,200.00
CT32
40′ X 60′
 $     2,400.00
CT33
40′ X 60′ Clear Top
 $     2,600.00
CT34
40′ X 70′
 $     2,800.00
CT35
40′ X 70′ Clear Top
 $     3,100.00
CT36
40′ X 80′
 $     3,200.00
CT37
40′ X 80′ Clear Top
 $     3,500.00
CT38
40′ X 100′
 $     4,000.00
CT39
40′ X 110′
 $     4,400.00
CT40
40′ X 120′
 $     4,800.00
CT41
40′ X 140′
 $     5,600.00
CT42
60′ X 60′ 
 $     6,480.00
CT43
60′ X 100′ Push Pole (Stakes Anchoring & 10 ft Perimeter Required)
 $   10,800.00
Frame canopies may be expanded in length in 10′ increments for an additional .75 cents per sq. ft.
Push Pole canopies may be expanded in length in 10′ increments for an additional .85 cents per sq. ft. 
10% Mark-Up for 10′ High Canopies
12′ High Canopies NOT PERMITTED
CT44
Plastic Pole Cover per LFT – Blue, Red or White
 $            1.25
CT45
Fabric Leg Pole Cover
 $          22.00
CT46
30′ or 40′ Wide Canopy Liners per Sq. Ft.
 $            0.90
CT47
8′ High Solid Sidewall per LFT
 $            1.75
CT48
8′ High Window Sidewall per LFT
 $            3.00
CT49
8′ High Clear Sidewall per LFT
 $            3.75
CT50
8′ High Mesh Sidewall per LFT
 $            3.00
CT51
10′ High Solid Sidewall per LFT
 $            2.75
CT52
10′ High Window Sidewall per LFT
 $            4.00
CT53
10′ High Clear Sidewall per LFT
 $            4.75
CT54
Sidewall Slider Cable Only per LFT
 $            1.75
CT55
Canopy Double Doors
 $        690.00
CT56
Water Barrel 20/30 Gal. Filled On-site
 $            6.00
CT57
Water Barrel 20/30 Gal.  Filled Prior
 $          12.00
CT58
Water Barrel 55 Gal. Filled On-site
 $            8.00
CT59
Water Barrel 55 Gal. Filled Prior
 $          16.00
CT60
Water Barrel Plastic Cover
 $            8.00
CT61
Friction Mat
 $            1.00
CT62
Concrete Block 50 Lb.
 $            5.00
CT63
Concrete Ballast 500 Lb.
 $          40.00
CT64
Concrete Ballast 1,000 Lb.
 $          80.00
CT65
Concrete Ballast 1,200 Lb.
 $        120.00
CT66
Sand Bag
 $            3.00
CT67
Emergency Kit – 2 Fire Extinguishers, 2 Non-Smoking, 2 Exit & Emergency Light Signs 
 $          85.00
CT68
Fire Extinguisher w/ID Sign
 $          28.00
Permit & Processing Fees Not Included (Depends on Fire District & Zoning Dept. Call to Inquire)
CT68
Endorsement Page
 $        185.00
CT69
Certificate of Insurance
 $          65.00
CT70
Tent Heater 50,000 BTU w/Out Propane Tank
 $        125.00
CT71
Tent Heater 80,000 BTU w/Out Propane Tank
 $        150.00
CT72
Tent Heater 170,000 BTU w/Out Propane Tank
 $        250.00
CT73
Tent Heater 250,000 BTU w/Out Propane Tank
 $        275.00
CT74
Propane Tank 5 Gal
 $          45.00
CT75
Propane Tank 20 Gal
 $        115.00